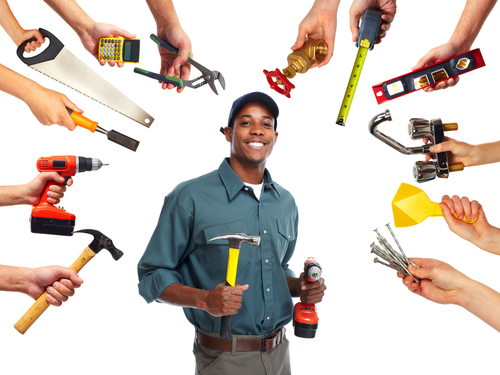 Whether you're preparing your home to sell, or you've just moved into your home and want to tackle some of the changes you have in mind to make it your own … knowing which items to do your self and which need a professional licensed contractor can save you from costly mistakes.
If you are really handy, tacking projects in your home may be right up your alley. If you spend lot of time watching home-makeover reruns on cable and envision creating a fabulous transformation all on your own … remember that there are always professionals (designers, craftsmen, tradesmen and carpenters) watching over (and correcting) the process. Doing-it-yourself (DIY) when the stakes are high (such as when selling your home, rewiring electrical or knocking out a wall) might give you a bigger headache than you want.
Here's a basic list of what you might tackle yourself and which items definitely need that experienced touch.
Is it doable? Painting walls, resurfacing or refinishing cabinets, hanging drapery rods, even changing light fixtures is easily doable if you have basic skills. If you're looking at scraping that popcorn off your ceiling, however, you need to check with your local building authorities to see if yours might have asbestos. Homes built before the laws changed in the mid-70s may or may not have asbestos ceilings that require special (and often expensive) removal.
Is it safe? You may have the skills to change light fixtures, but if they are located in the peak of a vaulted ceiling over an open staircase and require artful scaffolding to reach … you might need a professional with the correct equipment. If you do tackle a project, be sure to have all required safety gear including goggles, gloves and the like.
Is it prudent? Many plumbing tasks—changing out a faucet, for example—are perfect options for a budding DIY-er. Moving pipes in the walls, installing shower pans and other projects that could cost you plenty if they created a leak inside your walls, might just end up being the proverbial Money Pit. When you hire a skilled contractor to do the work, make certain he is licensed, bonded and insured. That way, if a leak forms later and your tub falls through the floor, you're covered. A seasoned professional should handle concrete work of any type since the chance for something to go wrong is quite high, but if you want to tile your bathroom floor … take it on.
Exterior changes, such as roofing, new windows, skylights or siding, require a contractor that knows the requirements to make your home watertight and energy efficient. Removing a large tree can be dangerous unless you're a skilled arborist, since falling limbs (or a falling tree) can cost you repairs to your own home or vehicles, your neighbor's fence, utility lines or even injury from using unfamiliar tools such as a chain saw.
Be prepared
Before you start a DIY project for the first time, check with your local big box stores to see if they offer classes. The tools, glues, mortars and other materials your grandpa or dad used may have changed over the years, so be sure to ask professionals about drying times, set speed, the need to use undercoats or primers and anything else you can think of before you start.
When making changes before a home sale, check with your real estate professional too … some changes may be unnecessary and others could actually lower the price buyers are willing to pay for your home.
Compliments of Virtual Results