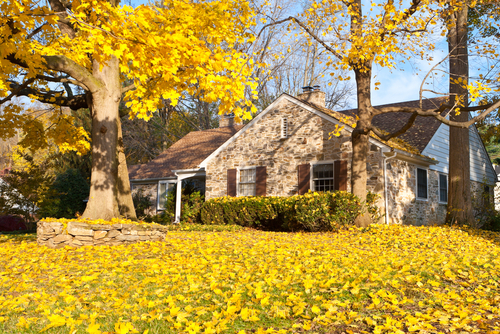 This time of year, leaves turn beautiful shades of red, vermillion, orange and yellow. We enjoy their beauty. We take photographs. We collect them. Our children play in them. For a homeowner, however, leaves pose the possibility of damage to their landscaping, their home and their relationships. Leaves and lawn-care If you're new to homeownership, you may not know that while allowing leaves to lay a thick carpet over your lawn is beautiful, a solid mat of large wet leaves, such as those from oak, maple or sycamore trees, can damage your lawn. They promote mold growth, cause moisture to run off rather than seep into the ground, and hide the grass from the winter sun. Experts suggest keeping your lawn clear of leaves. Here are some options to consider:
Raking. This historic method of dealing with leaves is still the preferred method for some lawns. If you have specialty turf, lightly raking and removing leaves protects your lawn from damage. Bag leaves or ad them to your compost pile. Remember that paper bags will decompose much more quickly than plastic ones. If your city offers leave removal, be sure to utilize the appropriate process required.
Mulching. Many mowers have mulch settings that chop the leaves into smaller bits that you can leave on the lawn to decompose naturally, and add nutrients to the soil.
Blowing. Many gardening professionals prefer blowing leaves out of flowerbeds and lawns with power blowers into large piles to then "vacuum" them up with large machinery and haul them away. Typically, you would hire a professional to do this since purchasing the equipment for yourself might be cost prohibitive.
Leaves and gutter-care Blowing and falling leaves create problems for your gutters. Once most of the leaves have fallen, you should have your gutters inspected for clogs. A clogged gutter is more than just an inconvenience. It can cause water and ice to back up under your roof creating leaks and other damage. When rainwater overflows a clogged gutter or plugged downspout, your fascia and soffits are endangered, too. Water backing up a downspout may dislodge or warp gutters, pulling them away from your house. When water spills down the sides of your home, it damages windows, walls and even your foundation. Consider a professional gutter-cleaning service, especially if your home has more than one story. You might investigate gutter guards if your property is particularly prone to leaf buildup. Your local gutter professional can help you determine what works best in your situation. Leaves and relationships Most municipalities consider leaves to be a natural product, so while a homeowner might be responsible for damage to a neighbor's home from a falling branch, that is not the case with falling leaves. So, when the leaves from your yard blow into your neighbor's yard, he may not have a legal claim, but it will strain your neighborly relationships. Make sure to talk to your new neighbors about the leaf situation. If she finds them a nuisance, you might offer to rake her yard as well. The best neighbors come up with a solution together. Compliments of Virtual Results