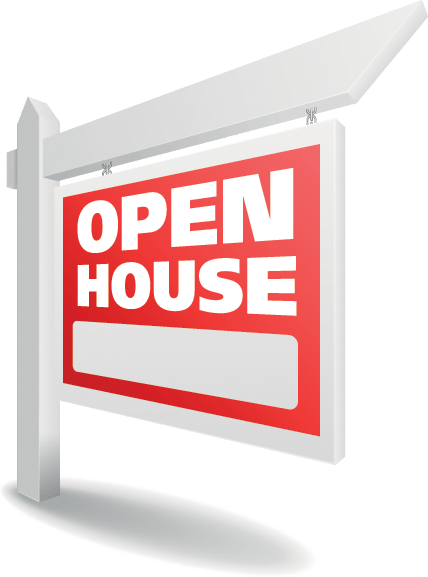 Are you getting ready to buy a home? Or maybe homeownership is something you're planning for in the not-too-distant future? Then you've no doubt stumbled across open houses and wondered if you should go. Whether you're ready to buy or getting your finances together to be in the market soon, there can be many benefits to attending open houses. Here's a look at a few.
Learn about the local market
It's kind of amazing how much you can learn about the market simply by attending open houses. First, you can start to get a feel for the kinds of homes that are for sale in your area, and what those homes are selling for. Second, you can see how much traffic the open house gets. From that traffic you'll better understand how competitive the local market is. When you find the house you really want, how quickly will you need to act? Third, depending on how busy the open house is, you may be able to chat with the listing agent. From that conversation you can glean more information about what's happening in the local market, even before that news becomes mainstream.
Understand what you can afford
You've been saving for a down payment and have plugged your financials into an online calculator to determine how much you can afford to spend on a house. But what is that money going to buy you in reality? By attending several open houses in the neighborhood where you'd like to buy, you'll soon see exactly what your money can get you. You'll see where you may need to make some compromises on your wish list and better prepare for the reality of what you can reasonably afford.
Get ideas about latest trends
If you're not sure what you want your new house to look like, attending some open houses can show you what the latest trends are. Many homes are professionally staged so that they look as good as possible to potential buyers. You can get ideas about paint colors, finishes, kitchen designs and more. This can be especially handy if you plan to buy a fixer-upper that will need some cosmetic work. Use the open houses to discover what you like and what you don't like. And if you like what you see, ask the listing agent for contact information for the designer or contractor.
Get to know the neighborhood
If you're trying to narrow your search to a particular neighborhood, it can help to attend open houses in those neighborhoods. Much of the traffic of an open house is nearby residents looking to see what's happening in the neighborhood. You'll get a sense of the kind of people who live there, how noisy or quiet the area is, and the kinds of amenities that are available nearby. It will also give you a chance to meet other prospective buyers and learn about what they're looking for in a neighborhood. Talk a walk around the block and get a feel for what it might be like on any given day.
The bottom line is – don't be afraid to pop into some open houses if you're getting ready to buy. Not only is it a great learning experience, you may actually find the home you love!
Compliments of Virtual Results