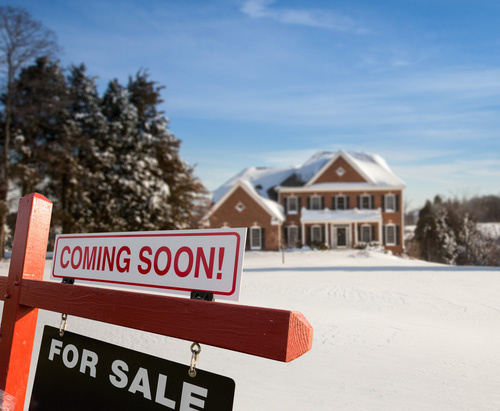 The nights are getting longer, temperatures are dropping and the holidays are approaching. That means you should wait to list your home for sale until next year, right? That isn't necessarily true. While spring and summer tend to be the hottest seasons in the real estate market, there are arguments to be made in favor of selling in winter.
Buyers are motivated
It's not uncommon for people to relocate for work at the beginning of the year. That means those folks will be looking for a place to live. Since they'll need to be in a new location by a specific date, they're more motivated to buy a home. In winter, you'll get fewer people who are "just looking" and more who are serious about a home purchase.
Buyers have more free time
Chances are the buyers who are looking at homes in winter will also have more free time to browse. Since many people take time off over the holidays, they'll often use it to do their home searching.
Less competition
Some home sellers aren't locked into a timeframe. They'll be more likely to postpone their listing until the holidays are over and schedules are less hectic. With fewer homes on the market, there's less competition for those motivated buyers you'll see in winter.
Your home will look cozy
It's easier in the colder months to make your home look cozy and inviting to potential buyers. Build a fire in the fireplace and light some candles around your home. There's nothing quite like the soft glow of the fire to make a home feel and look warm and appealing.
Curb appeal is easier
Unless you live in a climate that is temperate year round, you won't need to go out of your way to plant flowers and create curb appeal. Just make sure the driveway and walkways are clear and clean the yard of fallen leaves and other debris. Consider hanging some twinkle lights and a simple, tasteful wreath on your front door.
Timing is better
If you're a seller who will also need to be buying a home in a new location, the timing can work in your favor. By listing and selling in the winter, you're free to begin your home search in early spring without the stress of trying to sell at the same time.
More agent attention
Winter is generally a slower time, even in an active market. Chances are your real estate agent won't be as busy as they are at other times of the year. This means less stress for them and more time to focus on finding you the right buyers. The same holds true for mortgage brokers and anyone else involved in the closing process. You're more likely to have a relaxed closing day than if you were to sell in the middle of summer.
Don't let "conventional wisdom" keep you from listing your house in the winter or during the holiday season. Now can be the perfect time to sell!
Compliments of Virtual Results