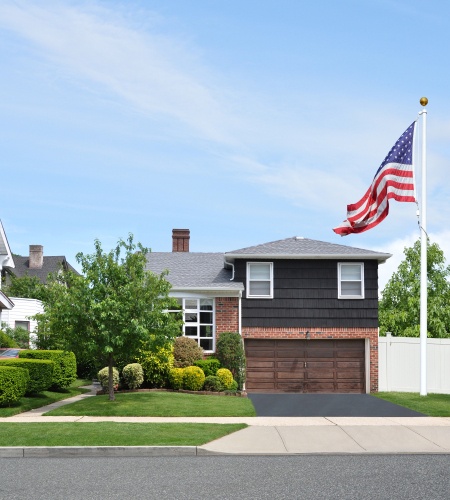 Are you getting ready to put your split-level home on the market? While once a mainstay of builders for several decades, they are a less common design for newer homes. Because of this, you may be concerned about how attractive your home will be to potential buyers. Fortunately, it is entirely possible to sell your split-level home quickly and for a good price. Here's everything you need to know about selling your split-level home.
What is a split-level home?
First of all, let's get clear about what a split-level home actually is. Split-level homes first became popular in the 1950s. Buyers liked their innovative design that allowed a larger home on a small lot. In a split-level home, the floors are staggered. They have more levels than a traditional home, usually three, that are connected with short flights of stairs.
Types of split-level homes
When most people think of a split-level home, they conjure up images of The Brady Bunch house. But split-level homes can have a variety of layouts and designs. Many split-level homes are visible from the front, where half of the home is one story and the other half is two stories. However, you can also have a home that appears to be one story in the front, but the back is two stories. Most split-levels homes are three levels. But some can contain as many as five or six levels.
Emphasize the unique floor plan
For many years now, homebuyers have shown a preference for homes with open floor plans. But many experts believe that buyers are starting to become less interested in open-concept homes and their lack of definition. Split-level homes are a great compromise between an open-concept home and one with a more traditional layout. They still retain an open feeling but areas are defined and have more privacy. They also make great homes for entertaining, as the rooms are large enough to hold a crowd, but various areas allow people to enjoy different things at the same time.
Make some cosmetic updates
Some buyers may think of split-level homes as outdated. That's generally because the ones they remember were decorated with a distinctly 1970s vibe. If you're getting ready to sell your split-level home, it's worth it to make some modern cosmetic upgrades. This could include replacing kitchen linoleum with hardwood or ceramic tile or removing the wood paneling from the family room. If you've made these updates, be sure to highlight them in your listing photos.
Upgrade your curb appeal
Finally, take some time to update the curb appeal of your split-level home before listing it for sale. Some buyers feel the front door is too difficult to see, so add some visual interest such as a canopy and potted plants and flowers. Consider painting the front door a strong contrasting color so it stands out from the rest of the house. Beautiful plantings around the front can also help to take attention away from the garage, which is often quite prominent in a split-level home.
If you're ready to sell your split-level home, then don't stress! These charming houses are making a comeback, and putting a little extra effort into your home's appearance can pay back big when it comes time to sell.
Courtesy of Virtual Results