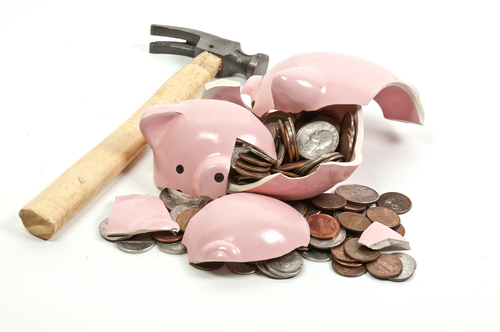 U.S. economists expect 2015 to be a strong year for housing. What this means to you is that more homes are selling and the supply of available homes is decreasing. This also means that prices likely will increase.
If you've been thinking of buying a home, now might be the time even if you haven't saved up that full 20% downpayment yet.
Low mortgage rates
Mortgages rates have been at their lowest since 2013, with APRs in the three and four percent rates. With VA and FHA loans beating out conventional rates, even homebuyers with less money saved up can get into a home.
Misconceptions about the "twenty percent down" rule:
Many potential homebuyers believe that 20% down is required to get any mortgage. They will delay buying a home because they haven't been able to save up enough for that large of a downpayment.
They may believe that with 20% down they are guaranteed a loan. Potential first-time buyers sometimes get the idea that once they have that large of a downpayment it will cover over any blemishes in their credit report or past credit history.
They believe they will get a better rate with 20% down.
What 20% down does:
Improves the chance you will get a conventional mortgage. Regular lenders ask for a 20% downpayment because it improves their ability to sell your loan.
When the downpayment is as high as 20% it meets some of the rules issued by the Consumer Financial Protection Bureau. In addition, the homebuyer will need to meet a 43% debt-to-income ratio, so it doesn't necessarily mean you can get a bigger loan.
When you pay 20% or more down, you are not required to buy private mortgage insurance (PMI). This reduces your monthly outgo and saves you a bundle.
Options with less than 20% down:
You don't have that twenty percent saved up. So can you still get into a home? Yes! Being able to afford a home is not about how much money you can put down; it is about whether or not you can make the monthly payments. Larger downpayments mean that your monthly outgo is lower. But there are other options:
FHA Mortgage: A FHA insured mortgage requires just 3.5% downpayment. FHA loan guidelines have a liberal approach to both downpayments and credit scores. In fact, borrowers with a lower FICO score can still get an FHA loan if there is a reasonable explanation for why their score is lower.
Conventional 97: Available from Fannie Mae and Freddie Mac, the Conventional 97 is a fixed-rate loan that requires just three percent down, and the downpayment can come completely from gifts by blood-related or marriage-related donors. A Conventional 97 loan cannot be greater than $417,000 and can only be used on a single-unit dwelling.
VA Loans: Members of the active duty and honorably discharged U.S. Military and surviving spouses are eligible for a loan guaranteed by the U.S. Department of Veterans Affairs. VA loans offer a zero downpayment and in higher cost of living areas can be made for up to $1,094,625.
USDA Mortgage: This no-money-down, 100% financing option is available to non-military borrowers and is offered through the U.S. Department of Agriculture. Known as the Rural Housing Loan, it is also available to buyers in suburban neighborhoods as well. Often, the USDA loans are the lowest cost option for borrowers.
Qualifying
Not everyone will qualify for a lower cost or low downpayment loan because that was a big contributor to the housing bubble, but if you are interested in home ownership, one of these options may be for you.
Compliments of Virtual Results