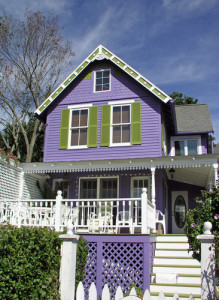 We get it … you want your home to be uniquely you … you want it to express your personality … you want colors that make you happy! But wait!  Now you want to sell this home and move on to a new canvass on which to express yourself. Which of your personal touches will add to your home's resale value and which ones might distract lookers or detract from its appeal to buyers?
Funky exterior colors: Unless your home is a Victorian with historic paint combinations or a unique custom home in the country, most buyers prefer colors that match or blend with the neighborhood. While they want the home to stand out for its design, they don't want a home perceived to be out of step with its peers. If you want your home to stand out, make sure its curb appeal is based on well-cared-for landscaping, a color that blends, but is perhaps deeper or lighter than neighboring homes, and beautifully contrasting trim.
Trendy exterior décor: Fountains, statues, gazing balls, bird baths, gnomes and outdoor wall and patio hangings certainly may express your personality and make your home stand out from its neighbors, but buyers want to put their own stamp on the place. Once you put your home on the market, consider removing these personal touches. One place you can let your individuality show is with the color of the front door. Choose a color that makes you happy … but follow your agent's advice when getting ready to sell, and change out your preferred color for one that attracts buyers.
Poor landscape decisions: If, in the early days of your home's life, you plant trees whose roots may grow under the foundation or buckle the walkways, a buyer will be concerned about costly foundation repairs. Similarly, vines growing on brick walls may look beautiful, but if they've been there for a very long time a savvy purchaser will suspect damage to the masonry. Similarly, that koi pond may have seemed like a great idea when you installed it, but a buyer may be concerned about expensive maintenance and upkeep.
Complicated interior wall coverings: Wallpaper trends come and go and are the most quickly outdated of interior designs. Flocked damask quickly becomes yesterday's decorator trend for formal spaces and that border you loved in the kitchens is so last year. Removing well-hung wallpaper, trims and boarders is a messy, time-consuming project that risks damage to the walls underneath. If you know that you're going to sell your home in a few years, consider using paint to express yourself instead of wallpaper. You can create a border with a stencil, use a faux process on a wall or simply use a variety of colors. Then, when time comes to sell, just paint over your creativity with a beautiful neutral color.
Mismatched fixtures: During your tenure in your home you may replace single doorknobs, switch plates, faucets and light fixtures for trendy ones that do not match each other without thinking much of it. For example, you may have a Disney-themed switch plate and light fixture in your daughter's bedroom. When you get ready to sell, however, consider replacing them all with matching neutral fixtures.
Other mistakes buyers don't like:
Painted brick: Both indoors and outdoors, buyers prefer exposed natural brick. If your brick is already paint, of course, you don't need to sandblast it, just make sure it is a neutral color. But, if your brick is not painted, leave it alone.
Along the same line, buyers prefer neutral mortar colors—in both brick and tile—overly bright or wildly contrasting colors.
Poorly maintained pools and hot tubs: Whether in-ground or aboveground, pools and hot tubs are an iffy investment when it comes to selling your home. Buyers typically worry about the ongoing cost of their care and maintenance, and damage any leaks or cracks could cause to foundations, landscaping. Additionally, a home with a pool may be less appealing to families with small children. If you do have a pool or hot tub, be sure to keep it well maintained, and install protective fencing that meets safety guidelines.
If you have questions about the resale implications of décor in your home, contact us and we'll guide you on the best practices for your home's future sale.
Compliments of Virtual Results