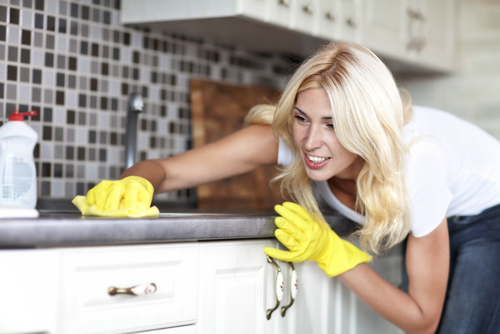 Having your house on the market while you're living in it can be a stressful time. You still have to live. The dog still puts muddy prints on your freshly mopped floor. The kids still race down the hallway bumping into your freshly painted walls. Construction down the way still lays that fine layer of dust on your mini-blinds.
So what's a busy home-seller to do?
The best advice from people that instinctively know how to keep a house ready to show is:
Clean as you go: So, as you're cooking, give the counters a swipe with a damp sponge and don't leave the dishes for later because later can become the next morning and the you get a call while you're at work that a very interested buyer only has today to look at your house, and well … there you are, trying to figure out how to race home from work to wash those dishes. Put a squeegee in the shower and give the glass doors and walls a swipe every time you take one.
Less is easier: Having less stuff means there is less to get out, so less to put away. When you're house is showing, pack away all those knick-knacks that collect dust. Remove extra furniture so that cleaning the floor is easier.
Use containers: Give your kids lidded containers for their stuff. At the end of the day, have them collect all of their things—toys, video games, iPods, etc.—and put them away in their container. They can keep it in their closet or you can stack them away in the laundry room…whatever works for your space.
Use tricks: Okay, sometimes you just can't keep everything clean all the time, so you have to resort to some quick ways to hide the mess. Cover furniture with blankets or throws to keep pet hair and kids messes off the upholstery. Then, you can just grab the blanket or throw, fold it up and hide it in the washer. Or, keep a Swiffer on hand to quickly gather up dust, pet hair or those muddy footprints.
Have a plan: When you're living with the constant need to have a clean home, you have to adjust how you think about cleaning. Many of us let the little messes pile up because we know we'll get to it on the weekend. In fact, in many homes an entire Saturday morning can be set aside for cleaning. But when your house is on the market, you can't let things wait for Saturday, so have a plan for just 20 minutes a day (or 10 each if your partner is onboard) to pick up, put away, wipe down and surface clean.
Don't sweat the small stuff
Your real estate agent knows that you're living in the house. They can help you decide which are the big things that you need to concentrate on and which are the small things that won't make a difference to a sale. We're here to help, so ask us.
Compliments of Virtual Results