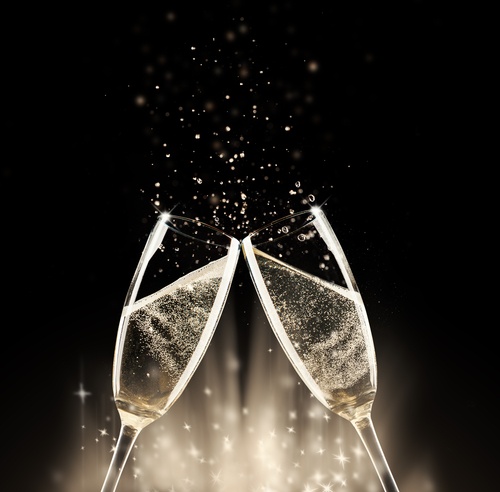 If you've just purchased a home, then you know what a stressful few months it can be. Collecting financial documents, securing financing, house shopping, making an offer, getting an inspection – there are so many things to accomplish before closing day. By the time you get the keys, you probably feel exhausted.
But you're not done just yet. It's time to celebrate! You worked hard to buy a new home, and you deserve to enjoy your accomplishment. If you're not sure how to celebrate your home purchase, here are some great ideas.
Have some champagne ready
Nothing says "celebration" quite like a bottle of bubbly. If you've been saving a bottle of champagne or wine for a special occasion, there's no better time to open it than on closing day. Have it chilled and ready with some glasses. As soon as you step into your home for the first time as the new owners, pour some glasses and make a toast. It's a great way to commemorate the end of the buying process and welcome in a new era of your life.
Have a meal at home
Even if your kitchen isn't ready, your boxes aren't unpacked and you haven't had a chance to stock the cupboards, take the time to have a meal at home. This can be as simple as ordering takeout, or as complicated as unpacking some pots and pans and doing a little shopping. Throw a pretty tablecloth over a large box, light some candles, play some music and celebrate by having your first meal in your new home.
Have a small ceremony
It may sound silly to some, but if you enjoy ceremony and ritual, why not perform one in your house on your first day? It can be a wonderful way to invite positive energy into your home and set the tone for your life there. Some simple ceremonies you can perform include lighting candles, burning sage, ringing a bell or even buying a new broom.
Display a favorite object
Do you have an object that is very special or dear to you? Perhaps it's a framed photograph, a piece of art, a souvenir from your travels, or a treasured family heirloom. No matter what the object, have it easily accessible so that on your first day in your new home, you can proudly display it. Simply having that one symbolic item in your new place will go a long way towards making it feel like home.
Have a party
We probably don't even need to say it, but now is the perfect time to throw a housewarming party. You may be tempted to wait until you're completely done moving in – but you don't have to. Friends and family are no doubt eager to see your new digs and congratulate you. And chances are, they will be sympathetic to those unpacked boxes and unpainted walls. Don't stress out about everything being "perfect." Relax and let your loved ones enjoy your milestone with you.
Compliments of Virtual Results