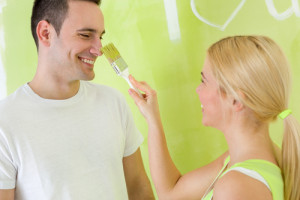 Whether you're preparing your home to move in, or preparing it to sell, choosing the right paint from the myriad choices available to day can be daunting. Paints come in up to six different finishes, so even if you've chosen the colors, you still have to decide on the finish for your application. On a gradient from matte or flat to high gloss, there are both textural and visual differences in paint finishes. In texture, the gradient moves from a "dryer" feel to a "slicker" feel, but visually, it moves from less light reflective to more light reflective.
Matte Finish: Called either Flat Finish or Wall Paint, this basic paint type has a chalkier feel and is not light reflective. It also hides imperfections, cracks and bumps because light does not bounce off them. This finish works well on interior walls such as living rooms and bedrooms, but can be more difficult to clean and may mark easily. Because it absorbs rather than reflects light, a darker matte-finish paint color is perfect for a media room.
Flat Enamel Finish: The addition of the enameling elements combines some of the advantages of flat paint with a more durable finish that holds up to periodic cleaning. This is a good choice for interior walls in homes with children. Sometimes this is called "Kids Room Paint."
Eggshell Finish: Slightly more durable and light reflective than matte or flat, eggshell has just a minimal amount of gloss added to it, and a deeper color saturation. It holds up to cleaning better and often works well for living rooms and dining rooms where more light-reflection is desirable but a glossier finish is not necessary.
Satin Finish: Often used for window and door trim, or ceilings needing a more reflective finish such as a the bath area or a workroom, satin finish holds up to cleaning and resists stains, marks and smudges better than matte, flat enamel or eggshell.
Semi-gloss Finish: Used for trim, doors, cabinets and railings, semi-gloss resists most stains and marks while cleaning more easily. It reflects and refracts light, so it magnifies imperfections or textures in the surface. When using semi-gloss, care with surface preparation is vital to the finished product. Semi-gloss can work well in bath areas too, where a more reflective surface is helpful to make the room lighter and brighter.
Glossy Finish: When applied properly, glossy or high gloss paints have a reflective surface similar to enamel, and creates a smooth finish for furniture and cabinetry. Because of its light-reflective quality, a glossy finish reveals and amplifies imperfections, but is the easiest surface to clean. When using high-gloss paints, carefully follow preparation instructions to get the best results.
Compliments of Virtual Results