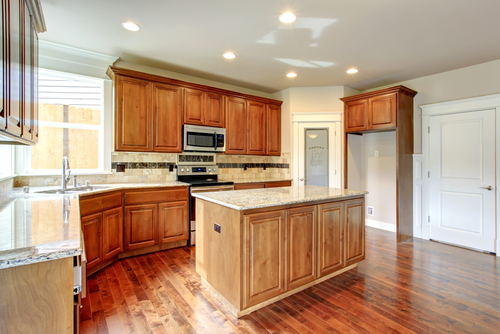 A newer trend sweeping the building industry is the use of wood-look porcelain or ceramic tiles. While natural wood flooring is still an optimal choice for most homes, here are some reasons you may want to take a second look at wood-look or wood-grain tiles:
Humidity situations:
Moisture: if you live in a humid or moist climate, natural wood may succumb to warping or swelling when exposed to excess moisture. Fluctuations in humidity levels where the level in the air is higher than the level in the wood can cause a condition known as "cupping." Cupping is when the floor has a washboard appearance and feels uneven underfoot.
Lack of moisture: in the reverse situation, where the wood has more moisture than the air, the moisture in the wood evaporates and causes shrinkage. In plank wood flooring, gaps may form between the planks. Parquet flooring exposed to low humidity may loosen and break apart. Even in typically high-humidity areas, running a furnace in the winter can reduce indoor humidity enough to damage wood flooring.
Properly laid porcelain or ceramic wood-look plank tiles give the rich look of wood, but do not swell or shrink with excess humidity or arid conditions.
Temperature control:
In warm climates, the cost of air conditioning can be a budget breaker. Ceramic and porcelain tiles are cooler to the touch and can help reduce the need for excessive air-conditioning.
At the same time, ceramic and porcelain tile is not as cool to the touch as marble, for example, so in colder climates it is not too cold in the wintertime. If your climate tends to extremes, you can mitigate the cold flooring in winter by installing radiant or hydronic (circulate water) heating mats under the tile.
Durability:
Tile comes in five varying grades of durability rated from light traffic to extra heavy traffic. The choice of tile should reflect the traffic and use that it will receive. Tile strength is graded by the Porcelain Enamel Institute and rated for hardness from Group 0 (only wall tile) to Group 1 (I, or PEI1) through Group 5 (V, or PEI5).
Compared to wood or carpet, ceramic or porcelain tile is water, stain and wear resistant. That means you can get a wood look in your kitchen or bath and not worry about damaging the floor if your dishwasher floods or the kids start a water fight in the shower.
Scratches can mar the look of wood flooring, requiring expensive sanding and refinishing. Laminate flooring like Pergo cannot be repaired once scratched—those individual planks need to be replaced. Depending on the grade, ceramic or porcelain tile is nearly impervious to scratches from normal wear and tear, so if you're one of those homeowners that like to move the furniture every week or two, but love the look of wood flooring, wood-like tiles are a win-win.
Resale value
For homeowners, along with all other considerations is the concept of resale value and return on investment (ROI). Wood flooring increases home values, but wood-look ceramic or porcelain tile can add the same or similar value over the long-term. Additionally, tile often is less expensive to install, so your return on investment can be even greater.
The best choice is the choice that fits you and your family's lifestyle, continues to look good for years and is easy to maintain.
Compliments of Virtual Results