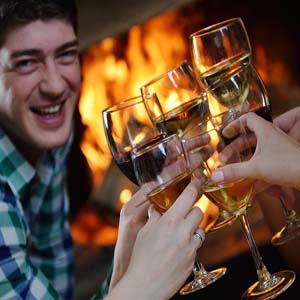 Planning an adult only holiday party in your home can be a wonderful way to de-stress this holiday season. We all know that this time of year is full of joy, but also filled with crowded malls, whiny children, and overspending. Taking a few hours to socialize with adult friends can be a great way to find balance this time of year. Be sure to plan for an afternoon or early evening gathering complete with invitations specifying that this is an adult only party. An event such as this can be super simple, no need for games or activities.
Plan An Adult Only Party in Your Home
Adult conversation with a little food, wine and a brightly lit fireplace could be the best medicine during the holidays. Think about having some light finger foods and have guests bring their own beverage to your home. To add a little festive cheer, have each guest bring a gift valued at $10.00 or under. When a person arrives, they can place the gift under the tree and take a different gift and open it just before they leave. Also consider providing a goodie bag for your guests. Perhaps a holiday survival kit complete with a sample bottle of whiskey, aspirin, or chocolate will help get your friends through the stress. Inviting your adult friends into your home to unwind could be one of the best gifts you give yourself this holiday season, too.