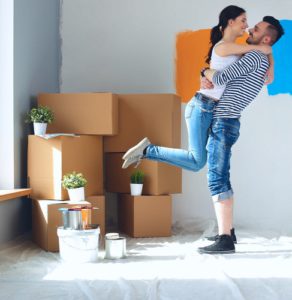 You did it! You packed up all your belongings, loaded them onto a truck, and unloaded them into your new house. That is no easy feat. But the work isn't quite over yet.
If you're staring at piles of boxes and just can't imagine how you will ever get organized and settled in, follow these strategies for unpacking. You'll be feeling right at home in no time!
Start with the essentials
If you were smart, you packed up a couple of boxes of essentials and loaded them on the truck last, or took them with you in the car or on the plane. This includes all the basics you'll need in the first few days, such as toiletries, the coffee maker and bedding. These items will get you through those first couple of nights, where chaos seems to reign. Your essentials will make sure that you are fed, clothed, clean and rested. Which is good considering how much focus and energy you'll need to tackle the rest of the house.
Set up the beds
Once you've gotten your essentials unpacked, set up the beds for each family member. You're going to need a place to sleep right away, and having a comfortable and familiar bed to slip into after a long day will help keep you and your family in good spirits. It will also help kids to become adjusted to their new home, and they can begin settling into their new rooms while you unpack the rest of the house.
Create a sanctuary
Next, focus on one space or room that you can quickly get set up and make functional. Depending on your needs this could be a living room, dining room or office space. Paint, organize the furniture and do a little decorating. Display a family photo or two. Get the television or stereo set up. By creating a sanctuary, you give yourself a tiny space to retreat from the chaos. Watch a movie, listen to some music or take a nap.
Take it room by room
You've now gotten to the point where you can focus on unpacking the rest of the house. Instead of doing a little bit in each room, focus on one room before moving to the next. Consider unpacking in this order:
Kitchen – Get all the essentials out and in order. Nothing beats being able to cook at home after a long moving process. The kitchen is also a great place for the family to congregate while the rest of the house is in progress.
Bathrooms – Get at least one bathroom up and running. Clean and unpack all your toiletries.
Living room, dining room, bedrooms, and office – Once the kitchen and bathrooms are ready, you can begin unpacking all your other rooms. By this point you should be feeling a little less stressed and can continue moving in and getting settled at a more leisurely pace.
Get to know the neighborhood
The best way to start feeling at home is to connect with the community. Get out and explore! Take walks, visit the local park, check out your new grocery store and introduce yourself to your new neighbors. Welcome home!
Compliments of Virtual Results