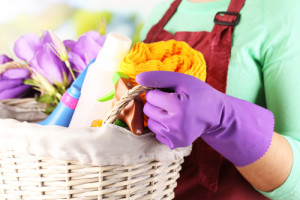 Now that the weather is finally warmer and spring really seems to be here, it's time to tackle some of those nasty cleaning jobs you've been putting off. If you're planning to put your house on the market, or getting ready to leave a rental for your newly purchased home, take on these projects now. Don't procrastinate.
Refrigerator
We don't know how it happens, but refrigerator drawers and shelves seem to collect gunk and goo. We can swipe them with a wet cloth on the fly, but at least a couple times a year we need to remove all the contents and give those shelves and drawers a really good scrub. Typically, these pieces are too large to fit in the sink, so consider taking them outside. Use a biodegradable cleaner and wash them out over your lawn so that the water does double duty.
Rugs
Those beautiful rugs that kept our toes cozy all winter are due for a good beating. Of course, you can vacuum them as well, but sometimes a good shaking or whacking with a broom or rug beater is just the ticket. Make sure you have a sturdy clothesline or balcony rail to hang them over. Letting them air out in the fresh outdoors can help get rid of that musty winter odor too.
Mini-Blinds
Though wonderful for controlling sunlight, mini-blinds are a housekeeper's nightmare. Dusting each of those little slats, or even using special tools doesn't always work. At least once a year, lay them out on the lawn and give those blinds a good spray with an eco-friendly degreaser. Then, use the hose and a spray nozzle to wash off all the grime. Dry them in the warm sun before hanging them back up.
Comforters and Duvets
Take your large blankets, comforters, duvets and quilts and wash them in your own large capacity washer or take them to a nearby Laundromat. But, rather than pay for all that drying time, bring them home and hang them out on a sturdy clothesline or railing to dry outdoors. Giving them a good airing out can give them a lovely freshness and prepares them to be packed away until the cold weather returns.
Trash cans
Even when you use bags, your trashcans are subject to grime and ooze. Line them all up on the edge of the patio, fill them with organic dish soap and put the kids to scrubbing with big sponges. If a water-fight ensues, all the better! Once the cans are clean, let them dry outdoors.
Inside
While all your carpets, trashcans, quilts and blinds are drying in the sun, now is a good time to mop those floors, dust the overhead fans and tackle the windows. Of course, spring-cleaning all goes more quickly if you round up the whole family to help for just one day a year.
If you're getting ready to sell your home, there are some other items you should consider tackling too. Give us a call and we can tell you just where you need to invest the most time and effort.
Compliments of Virtual Results