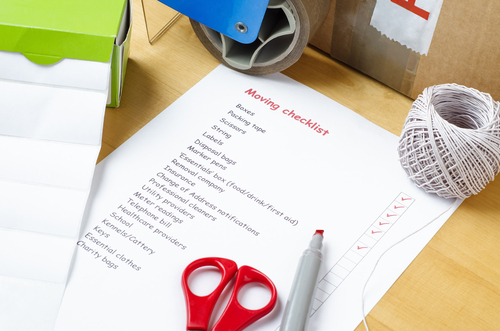 Okay, there's really not a simple way to relocate … after all, you're uprooting yourself, moving away from friends or family or both, leaving your comfort zone and launching out into the world. But, there are some things you can do to make it less stressful for yourself and your family. Each year, nearly 20 percent of the American population makes a move, so there is lots of tried and true advice for relieving some of the anxiety about your move.
Moving
The best advice you can receive when relocating is to be as organized as possible. Organizing may seem like a hassle when you're in a rush to move, but arriving at the other end and starting a new job, new schools for the kids and setting up a home can be extra stressful when you can't find your shoes or belt, don't know which box has the coffee-maker or where your kids' backpacks are. Lots of online sites are devoted to various organizational methods—some more complex than others—but finding one that works for your style should be one of the first things you do.
Create a checklist so that you don't forget to move your satellite service, turn of the utilities or forget to pick up your kids' school records. Utilize your smart phone or tablet to document which boxes contain which items. Number them or color-code them so that movers can deposit them in the correct rooms as they unload your belongings on the other end.
Selling
If you own a home and need to sell it before you can relocate, you'll need to consider the best way to sell quickly. Managing a home sale from out of the area is possible, but can add lots of stress to your new situation … and having a home three states away that isn't selling can cause tremendous financial burdens as well. Regardless of how quickly you need to make the move, in order to sell your home quickly and relieve you of having to think about it while you're preparing to move, you must price your home correctly for the market. Your real estate professional knows the area, knows the market and can help you set the right price.
If you need to move soon, follow your agent's advice on the most important upgrades, fixes or staging your home needs to be most appealing to buyers. This is not the time to consider major remodels, but you do want everything fresh and sparkling clean, with attractive and well trimmed landscaping.
If your home doesn't sell
If your home doesn't sell before you need to move, you have a few options available to you. Your agent could sell the home for you in your absence. Or, you can let your home become a rental. Before you think about becoming a landlord, however, let your real estate agent introduce you to a property manager. In fact, many real estate agencies and brokerages have property management divisions. You want someone handling the paperwork, marketing your home to potential renters, receiving payments of deposits and rent, and taking care of repairs and other requests from your renters.
Buying
You may already know the area of town you want to live in your new city, so by all means, work with your real estate agent to find the perfect property for you … but if you just aren't sure, take the time to lease in the area you think you might like to live. Leasing temporary housing for three to six months while you test the waters in an area can save you from making a purchase you may be sorry for later. It also gives your real estate professional more time to find just what meets your needs. Often, your real estate agent can help you find a place to lease so that you can get settled while you look for the perfect home.
Compliments of Virtual Results