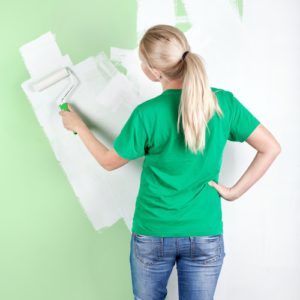 You're ready to sell, but you know that your home could use some updates to attract serious buyers. But you don't want to invest significant time or money, which is understandable. Major remodels don't always bring a desired return on investment when you're selling. So what do you do?
Here are some great suggestions to spruce up the rooms in your house when you're staging for a sale. These ideas require minimal time and effort and will give you the biggest bang for your buck.
Turn the office into a bedroom
Does your home have an extra room you've been using as an office, an exercise room, or even a storage space? Turn that extra room into a bedroom. Having another bedroom can be a selling point for prospective buyers with growing families. Remove clutter and replace it with a simple bed, or even a set of twin beds. Add simple touches with colorful comforters, throw pillows and art.
Turn the basement into living space
If you're lucky enough to have a basement, turn that unused space into viable living space. If your basement is unfinished, take time to clean, de-clutter and paint. Then use your imagination to transform the extra space into something buyers can appreciate. This could include a game room, an office space, a home gym, a man cave or even living quarters for an elderly parent or teen.
Turn the back entry into a mudroom
Do you have extra space near your back door? Then why not turn it into a mudroom of sorts? Every family needs a place that's a catchall for coats, boots, backpacks and mail. Create a space for that with hooks, a bench and some cubbies for baskets.
Create a laundry room
If your washer and dryer are tucked away in a corner, a closet or the basement, invest time in making that space more inviting. After all, there's no doubt that most families spend hours a week on laundry chores. First clean and de-clutter the space. Apply a fresh coat of paint to make the space light and bright. Install shelves around the washer and dryer for laundry supplies. Add some personality with stylish baskets and wall art. You want to create a dedicated space that is welcoming and that prospective buyers will actually want to spend time in.
Give the kitchen and bathroom a facelift
Kitchens and bathrooms are big selling points for buyers. They are also expensive to renovate. Consider giving these rooms extra attention with a cosmetic facelift that is much less expensive than a complete overhaul. Paint walls and cabinets with a fresh coat of neutral colored paint. Switch out hardware to something simple and contemporary. If countertops and floors are damaged or outdated, consider replacing with something clean and modern. Enhance the lighting by switching out fixtures. You can even update appliances with paint that is specifically formulated for them.
If you're getting ready to sell and want to refresh your home without spending a fortune, consider one or all of the options above. That little bit of extra time and energy could pay off big in the end!
Compliments of Virtual Results