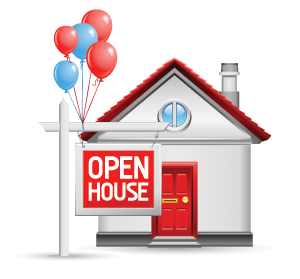 If you're selling your home, then an open house is likely going to be one of the tools your agent uses to market your property to prospective buyers. An open house is a great way to show your home to as many buyers as possible, so it's important to take time to prepare. Here's what you should do in the days leading up to the open house so that you can make the most of the opportunity.
Clean and repair
First impressions count, so be sure that your home is ready to impress. Repair any items that aren't functioning, such as loose doorknobs and leaky faucets. Consider giving rooms a fresh coat of neutral paint. Replace worn items like the mailbox or house numbers. If possible, hire professional cleaners to scrub all the nooks and crannies. This includes power-washing the exterior and cleaning the windows. Your home should be sparkling when prospective buyers finally arrive.
Remove clutter and stage
After you've cleaned and repaired, make a thorough sweep of your home to remove clutter. This includes any personal items like family photos and sports memorabilia. You should also remove bulky furniture and clean out the closets. Remember, you want to emphasize how much space your home has. If your furniture is worn or outdated, consider having your home professionally staged. A well staged home allows buyers to imagine what it would be like for them to live there, and can sell your home more quickly and for a better price.
Advertise
The key to hosting a successful open house is to get as many serious buyers there as possible, but they can't come if they don't know about it. Make sure your agent is listing your open house in the multiple listing service. Advertise on the major online portals for real estate, including Craigslist. Make flyers and pass them around to your neighbors. Post in your local Nextdoor.com group to let people know, and encourage them to spread the word. Create a Facebook event and encourage your network to share it with their friends. You never know who might be looking for a home in your neighborhood.
Provide refreshments
Don't be afraid to provide snacks and drinks on the day of the open house. Baking a fresh batch of cookies makes your home smell wonderful, and giving people an opportunity to linger with a drink and a snack makes it easier for them to envision themselves in your home. It also gives buyers the chance to speak with your agent and have some of their questions answered.
Get feedback
Though as a seller you should not attend your own open house, do ask your agent for feedback once it's over. Your agent spent the day listening to prospective buyers' impressions of your home, and this can be valuable information. Does the house feel too cramped? Are there any off-putting smells? Is there enough light? Is your asking price on par with what buyers are expecting? Having this information will allow you to make adjustments, so that future buyers are more likely to put in an offer.
By taking a little time to prepare for your upcoming open house, you'll be well on your way to a successful sale!
Compliments of Virtual Results