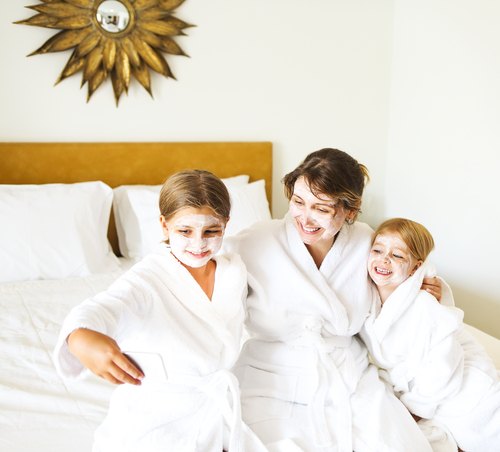 What better way to enjoy the home you love than by planning a Spring Break staycation? By spending your vacation time at home, you can finally take advantage of all those amenities that made you fall in love with your house. The trick is to plan your week so that you don't get bogged down in chores and other routine obligations. Here are some great ideas for planning your own Spring Break staycation!
Go camping in your backyard
Who says you have to make reservations months in advance to snag a great camping spot? Why not pitch that tent in your backyard instead? Start with having a cookout, complete with s'mores. At night, tell ghost stories as you snuggle into your sleeping bags. Keep all your electronic devices in the house and just spend an evening in nature without having to go far. You'll be surprised how rejuvenating and fun this camping staycation can be!
Have a family film festival
Going to the movies can be such a fun family activity – but it can get expensive. Instead, plan a family film festival at home. Choose a theme for your film festival and select movies within that theme that the whole family will enjoy. Stage your TV room so that it looks like a movie theater, with a red carpet and pictures of your favorite films. Make a big batch of popcorn and serve it in popcorn bags like you get at the theater. Set up a candy bar so that everyone can choose their favorites and make sure to have plenty of comfortable places to sit.
Host a spa day
Treating yourself to a massage or a pedicure is a great way to spend vacation time. Instead of spending hundreds of dollars at the spa, turn your home into a day spa. Give everyone a DIY foot soak and finish off with a pedicure. Make homemade facials and have fun taking pictures of each other. Fix a selection of healthy snacks like cucumber sandwiches and sparkling water with strawberries and lemon slices. By the end of the day you'll all feel relaxed and ready for more fun.
Prepare a fancy dinner
Is there anything more special than dinner at a fancy restaurant? You can recreate the experience right in your own home. Look for great recipes online, and plan to have a multi-course meal. You can spend the previous day with the family preparing everything for the meal. This includes decking out your dining room with your best linens and dishes. On the night of the dinner, light candles and get dressed in your best attire.
Bust out your favorite games
Finally, Spring Break is the perfect time to play all those games that usually sit in the closet. Plan to have an all-day board game competition. To make it even more fun, head to the toy store so that you can choose a couple of new games as a family. To really up the ante, keep track of winners and give out prizes at the end of the day. You never know – this could end up becoming an annual family tradition!
Compliments of Virtual Results