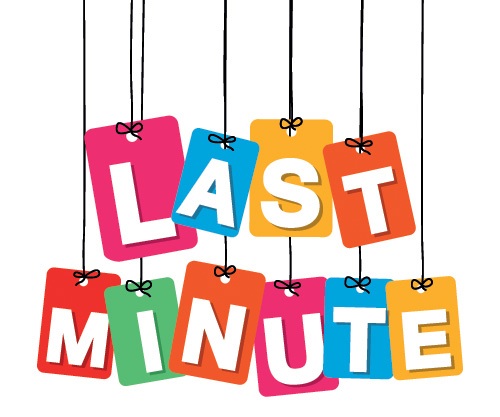 The ideal amount of time to prepare for a big move is two to three months. Having up to 12 weeks gives you plenty of time to organize, make all your arrangements and pack. But sometimes circumstances don't allow for the luxury of  "enough time." If you're about to embark on a last-minute move, don't panic – it can be done. Here's what you need to do to make it happen.
Start now
Procrastination is not your friend when you're faced with a last-minute move. As daunting as the challenge may seem, don't let it keep you from digging in. As soon as you know you're moving, buckle down and get to work.
Create a timeline
It might seem counterintuitive to spend precious time getting organized, but it will pay off. Write down everything that needs to happen between now and moving day. Then create a packing calendar. Set aside a block of time for each task that needs to be completed, such as packing the bedroom. You might also then want to list the tasks you need to complete to pack the bedroom. This could include packing your clothes, packing all your decorative items and packing your linens. Most importantly, stick to the schedule.
Purge, purge, purge
The more items you have, the longer it's going to take you to pack them. Now is the time to purge all those things you haven't used in awhile. Be ruthless in your assessment of an item. Unless it is something you use frequently or has strong sentimental value, you should let it go. Unless you have extra time to sell your discarded items, donate them to charity. You can save even more time by finding an organization that will pick up your items for you.
Eliminate items that aren't allowed
There are certain items that moving companies will not transport. The list will vary by moving company, but will generally include hazardous materials like propane tanks, pool chemicals and fire extinguishers. Many moving companies will also prohibit perishable food, firearms, liquor and cleaning supplies. Either properly dispose of these items or give them to friends and neighbors.
Get your supplies
If you have the time, it's great to accumulate used boxes for your move. But if you've got to be fast, then order your supplies from a moving store, office supply shop or even Amazon and have them delivered. You'll pay a premium, of course, but you'll save yourself a ton of time. Don't forget bubble wrap, packing peanuts and packing tape!
Ask for help
Lastly, if you're faced with a quick move, don't be afraid to ask for help. People who care about you will know that you've got a challenging task ahead of you and will most likely be happy to help. Friends and family can help you get rid of the things you don't want anymore, or help pack up boxes and load the moving truck. If you're really pressed for time and can afford it, consider hiring professional packers who will come in and do all the work for you.
Compliments of Virtual Results