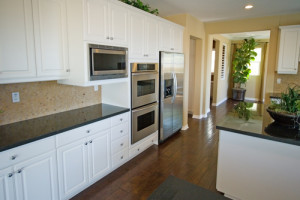 Gone are the days of the sticky painted kitchen cabinet that peels, chips and generally looks cheap. Modern paint finishes means you can rejuvenate or renovate your dated kitchen or bath cabinets with just some elbow grease and your own creativity. Know your product Like any paint job, painting cabinets is not hard, but it does require some prep work to get the perfectly finished outcome you want. Before putting brush to wood, there are some steps you just can't skip:
Cleaning: the most important step in your renovation project, cleaning is the one newbies try to skip most often. Your cabinets have years of fingerprints, cooking grease, grime, smoke and other surface contaminants that can keep your paint from adhering. Your local hardware or paint store can direct you to the best cleaners and degreasers to remove that surface gunk from your cabinets. Very old cabinets, or those exposed to tobacco smoke, may need to be cleaned more than once.
Sanding: Another step newcomers are prone to skip is proper sanding. Sanding is the hardest step because you need to break the surface of the existing finish. If your surface has nooks and crannies, you'll want to get in there with some 100-grit sandpaper.
Primer: Priming your cabinet doors can make the difference between a classy new renovation and a slapdash cover-up. To make your surface smooth, you need a so-called "high build" sandable primer. One primer, the Eurolux Primer/Undercoat from Fine Paints of Europe can give your doors and drawer-fronts that smooth, glassy look you want. The primer fills the wood grain, so you may need a coat or two for deeply grained woods such as oak.
Paint: The best outcomes for kitchen cabinets come from oil-based paints because they are self-leveling. When your cupboard doors are flat on your sawhorses, an oil-based paint will fill in any ridges or imperfections to leave a smooth finish. Unfortunately, oil-based paints can be messy to work with and have toxic fumes. But, while latex paints may not be perfect, they are getting closer. These days you can find 100% acrylic paints that will create a durable finish, so check with your paint specialist to find the right one for you.
Specialty Products: The popularity of DIY products has taken some of the extra steps out of the cabinet refinishing process. Although more expensive than the paint and primer method, Rust-Oleum makes a Cabinet Transformation kit that gives you all the products you need to get that smooth finish. They claim it is easy to use, does not require special skills and lets you skip the stripping, sanding and priming steps (but you still have to clean first).
When renovating your kitchen on a shoestring, you can get impressive results if you take your time, use the right products, and follow instructions closely. When done correctly, freshly painted kitchen cabinets can boost your home's value and up its appeal to homebuyers. Compliments of Virtual Results