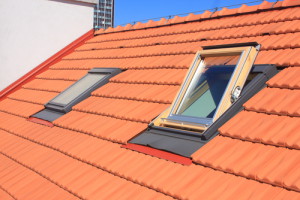 During the gray and cloudy days of winter, a bit of sunshine can make a huge difference in how you feel about your home and yourself. The physical and psychological affects of daylight are well documented. You could leave the drapes and blinds open, but then you lose privacy and the thermal insulation they provide. An alternative is to add a skylight to your home, or alternatively, to install a light tube. Skylights A skylight is a "window" in the roof of your home that brings light into a room from above. Some skylights are fixed so that they do not open and others open to allow fresh air and ventilation. Some skylights offer emergency egress or even roof access, depending on the layout of your home. Since skylights must be installed in the roof, they work well in single-story homes to add light to a kitchen or family area. In a multi-storied home, a skylight would add light to a bedroom, home office or upstairs game room. For example, if your home has a large attic that you want to convert to a home office or exercise room, skylights allow you to have windows even though you may have no walls. Specialty skylights offer preinstalled window coverings or blinds, tinting, insect screens and other options. Turn a room in your home into an atrium with a fixed glass dome skylight with architectural detailing, or just add light to a room with a simple glass panel skylight. Light tubes If the home has an attic, the skylight might be recessed into the attic so that the light shines down into the room inside recessed walls. An alternative to a recessed skylight is to install a light tube, such as the Solatube. A light tube or solar tube is a pipe that reflects daylight via its reflective surface that mirrors sunlight to a location in the home. Light tubes may be installed in the ceiling in the same manner as a skylight, or they may be installed in walls. An advantage of a light tube is that the rooftop location does not have to be directly above the light-point in the room. Because the "tube" reflects or bends the light, the architectural applications are endless. You can install light tubes in showers and closets, to light up a niche or brighten up a dark corner. Light tubes often include LED lights so that they are useful with or without sunlight. Energy efficiency A correctly installed skylight or light tube can increase a home's energy efficiency by decreasing the energy required to light a home. However, when the wrong skylight is installed for your home or location, or the skylight is installed incorrectly, the result can be a decrease in energy efficiency. Adding value When you add a skylight or light tube to your home, the perceived value to a buyer can be immense as long as the addition:
Is installed correctly.
Does not diminish the home's energy efficiency.
Blends well with the home's design.
Before adding a skylight to a home you intend to sell, check with your local real estate professional to determine if the perceived value would result in actual market value. Compliments of Virtual Results