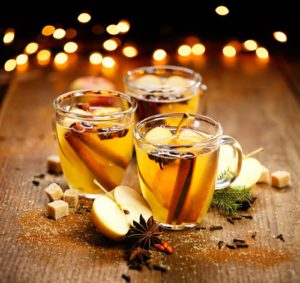 Selling your home during the holidays can present a dilemma. Should you deck the halls? Or should you leave the wreaths, lights and nutcrackers for next year? On one hand, it might not feel like the holiday season if you don't put up a decoration or two. On the other hand, too much holiday décor might turn off prospective buyers. What's a home seller to do?
If you're really hoping to have a little holiday cheer while you sell your home, know that you can. The key is moderation. Here are some great tips for adding a touch of the season to your staged home.
Play up the fireplace mantel
Does your home have a fireplace? That's a great selling feature. And there's no better time to draw attention to it than during the holiday season. Drape some holiday greenery, hang some tasteful and simple stockings, and add a few candles. Your holiday mantel can instantly add coziness and warmth that can charm potential buyers.
Set a holiday table
Demonstrate to prospective buyers how great your home can be for entertaining by setting a beautiful table. During the holidays, you can set the table with classic holiday settings. Show them how perfect it will be to host Thanksgiving or Christmas dinner in their new place.
Go easy on the tree
Christmas trees can certainly show off your home – especially if you have high ceilings. A tall tree can accentuate that feeling of space. But be careful about having a tree that is too wide. A wide tree can take up quite a bit of floor space and make a room feel cramped. If you put up a tree, choose one that is narrow.
Hand out festive treats
There's nothing like having some tasty drinks and snacks on hand during an open house. When you host one during the holiday season, you can capitalize on all the delicious and beautiful treats that are available. Set out a bowl of candy canes, bake sugar cookies, and simmer cider on the stove or in a slow cooker.
Keep exterior decorations simple
Nothing beats a traditional holiday wreath to add elegant charm to your front porch. Simple white lights framing the door and electric candles in the windows will make your home cozy and inviting, especially on cold, dark days. But keep other types of decorations to a minimum, or save them for next year. While you may love that 10-foot tall inflatable Santa complete with reindeer, it might not be everybody else's cup of tea.
Commit to a color palette
An important consideration to keep in mind when using holiday decorations in your staging is to match your existing décor. If your home has a neutral palette, then stay within that same color range with your holiday decorations. Choose white or ivory decorations with gold accents to add some cheer and still keep it classy. The same goes for your Christmas tree decorations. Choose ornaments, lights and tinsel that coordinate with your home's décor, which will help unify the whole space.
Compliments of Virtual Results