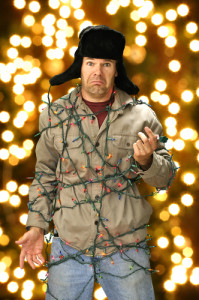 Each year, fire departments across the country respond to home and structure fires caused by holiday decorations. In a study by the National Fire Protection Association (NFPA) in 2011 showed an annual average of 230 structure fires that began with lights and decorations on Christmas trees and another 150 fires caused by holiday lights. Injury, fatalities and millions of dollars in property damage result from holiday fires. Here are some ways to keep your home safe during the holidays: Water your live trees Live Christmas trees require consistent water levels to stay fresh. When purchasing a tree, be sure the needles are green and fresh. If the needles fall off easily, find a different tree … fresh needles are harder to pull out and indicate a freshly cut, healthy tree less likely to catch fire. Once the needles begin dropping, discard your tree. Buy fire-resistant artificial trees and greenery Your artificial tree should have a label indicating that it is fire resistant. Greenery should have fire-resistant labels as well. Look for labels from Underwriters Laboratories (UL), Intertek, or in Canada, the Canadian Standards Association. Keep your trees (live or artificial) at least three feet away from heat sources such as furnaces, baseboard heaters, fireplaces, candles or space heaters. Avoid blocking exits (doors or windows) with your tree so that there is not impediment to escape in case of fire. Choose safe lights Not only should your tree be fresh and green or fire-retardant, you lights should have safety labels. Avoid using lights that are old, have worn or frayed cords or other signs of excessive wear or damage. Rodents tend to like the plastic coating on stored holiday lights, so carefully check light strands for bite marks if your lights are stored in an area rodents can get to. Turn your tree's lights off before leaving your home or going to bed. Do not connect more than three (3) strands of mini lights, or a maximum of 50 bulbs of screw-in type lights. Avoid attaching your lights with staples, nails or tacks. Instead, use insulated light holders. Outdoor decorations are hazards too Each year, emergency rooms treat more than 10,000 people injured while putting up holiday decorations. Injuries can include shocks, broken bones from falls, cuts and bruises. Before heading outside to put up those lights, wreaths, bows and garlands, take a moment to make sure the conditions are safe:
Shovel and deice walkways.
Remove icicles or dried leaves from gutters and the edges of your roofs, railings and window frames.
Only plug outdoor lights into a GFCI (ground fault circuit interrupter) outlet. If you don't have a GFCI outlet, purchase a portable one at your local hardware store that is rated for both indoor and outdoor use. Only use extension cords rated for outdoor use and make sure your cord is not damaged or worn.
Do not hang your lights from gutters using staples or tacks. Instead, use specially made gutter and shingle clips that will not damage your gutters or lift your shingles. Each bulb or icicle cord drop should have its own clip, so be sure to purchase as many clips as you need for safety.
Use LED lights. These will save you energy, and because the burn cooler, are less likely to cause fires. Avoid using 7-watt bulbs. Although they are more brilliant, they can get dangerously hot and cause fires. Use 5-watt bulbs instead.
Stay away from power lines. In older homes, power lines may come into the home from the roof. Keep yourself and your decorations at least 10 feet away from power lines.
Hire a professional Above all, stay safe during the holidays. If you do not have the equipment, health and tools required to safely decorate your home, hire a professional. Compliments of Virtual Results