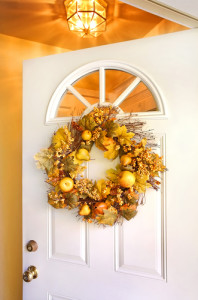 To have an open house or not to have an open house over the Thanksgiving weekend: that is the question! Many sellers assume that the Thanksgiving holiday weekends and the week between Christmas and New Years Day are less than favorable times to have an open house. Some real estate agents disagree. Less competition Often, because both sellers and their agents assume the holidays are off limits, if you have an open house over the holidays, you'll have less competition. Typically, the number of open houses during the Thanksgiving holiday is less than half what a normal weekend might have. That means your home may get more exposure than it would with more competition for the same day. More serious buyers Since many people have that weekend off, it may be the best opportunity for them to go out and look. When the buyer and seller both are serious, a holiday open house can be effective. When the buyers are motivated, they are more than happy to shirk Black Friday shopping in hopes of finding the right house. A recent survey of real estate agents revealed that two-thirds of them believe a Black Friday home seller is more serious and over sixty-one percent believe Black Friday buyers are more serious. Year-end timing If a buyer needs to complete the deal prior to the end of the year for financial reasons, the Thanksgiving weekend is the last opportunity for a big push toward that goal. Homebuyers waiting for their year-end bonuses to add to their down payment often take advantage of the holidays to house hunt. Proximity Young couples seeking to relocate nearer to family most often "come home" for the holidays. Since they are in the area anyway, they take the time to see what is available on the market. Exposing your home to buyers during this time may give them the impetus they need to make the move they already want to make. Winter open house best practices Holding an open house in winter has both advantages and disadvantages, so here are some best practices to make sure your open house is a success. DON'Ts
DON'T over decorate. While buyers may adore your holiday décor, they also want to be able to see the home's features.
DON'T forget to remove holiday feast leftovers. This includes airing out the smells of cooking from the day before. When a home is closed up in the winter, those stale odors linger even though those living in the home no longer smell them.
DON'T hang around. Find a special place to take your family while your agent handles your open house. Buyers, even serious buyers, may be uncomfortable asking serious questions with the homeowner present.
DO's
DO put your pet in a safe place. Strangers in the home can make your pet anxious and potential buyers may find animals frightening or off-putting.
DO turn on all the lights. In the winter, the sun sets early, and even a daytime open house may find a cloudy day. Potential buyers prefer light bright rooms. That means windows and blinds should be open as well.
DO keep the heat to a comfortable temperature. While your family may prefer it cooler, or you choose to conserve energy by wearing sweaters and extra layers, do not assume your potential buyer will appreciate those efforts.
If you are considering a holiday open house, contact us immediately so that we have advance marketing in place for the best possible turnout. Compliments of Virtual Results