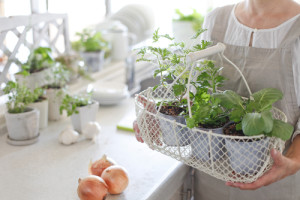 With several more weeks of winter to go, you might be hankering for some fresh greens, herbs or sprouts in your diet. Changes and improvements in lighting, soil and planting techniques mean that you can grow lovely plants in your home year round. You can have a simple herb garden or an elaborate hydroponic system. Container gardening is a collection of pots, jars, boxes or other containers that can hold a plant medium (soil, commercial soil-less mixtures, sand, bark or mulch). The medium supplies the plant's roots with nutrients, moisture, air and physical support. Hydroponic or aquaponic gardening uses fertilized water (sometimes including live fish) as the growth medium. 9 indoor garden ideas: Here are a variety of indoor gardening ideas. Add one to your décor and give your home a much-needed lift in the winter months.
Terrarium: you can create a terrarium in a jar, hurricane lamp or unused fish tank.
Force bulbs: Tulips, amaryllis, hyacinth, narcissus, crocus and other bulb plants can be "forced" to bloom indoors in the winter.
Simple terra cotta pots: Start your herbs in small pots on the windowsill. In the spring, you can transfer them outside.
Rock garden: Grow succulents or parasitic plants on a rock. Since they don't need soil they can live for months with periodic watering.
Hanging planters: When space is limited, hang planters on the wall or from a hook in the ceiling. A variety of options can be found at retailers like Home Depot.
Mini greenhouse: For herbs, cherry tomatoes and other hothouse plants, try a mini greenhouse like this one at IKEA.
Potted citrus trees: Grow you own oranges, lemons, limes or cumquats in an indoor pot and add some homegrown vitamin C to your diet.
Mason jars: Set mason jars in the windowsill or shelf and grow simple herbs like rosemary, cilantro and basil.
Plant table: Buy or build a garden table for your living room. A plant table is like a box with legs. You can plant directly into the box, or fill it with small pots.
Environmental control If you don't heat your entire home throughout the winter, consider a soil heat mat for your garden. Sort of like a heating pad for your plants, the soil heat mat keeps the soil warm from underneath. Most plants thrive best at about 75-85°F and a heat mat will keep the soil at the perfect temperature. Automatic watering systems can keep your plants moist even if you forget. The same as an outdoor drip system, a series of tiny tubes supply water on a timer system. A simpler and more mobile option is the use a watering globe. Typically made of hand-blown glass, you fill the globe with water once a week or so, place it tube side down into the soil and it keeps the soil moist. Homemade water globes (from wine or glass soda bottles) will work as well. Finally, consider the light. If you don't have a well-lit window, or if you're winter days are often overcast, consider a grow light. These come in a variety of intensities and sizes. A gardening shop can advise you on the best light for your situation. If you're selling your home in the winter, simple indoor plants can add cheerful appeal for potential homebuyers. We can advise you on the best way to include plants when staging your home for an open house, so contact us today and let us get started. Compliments of Virtual Results