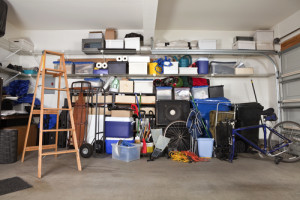 For most of us, the garage is simply a place to park the car, store suitcases and holiday decorations, or stow those miscellaneous tools we need now and again. With a little careful planning, however, your garage can become a fantastic workspace, play space or man cave that extends the useful area of your home. Try one of these ideas in your garage and reap the benefits of more usable square-footage. Preparation Since many garages are unfinished, the first item of business is to add wiring, ventilation, insulation, and a covering for the walls. For a DIYer, here are some tips for getting that done. If you need to hire someone, make sure your contractor has experience in finishing garage spaces. You will want plenty of power outlets on separate breakers for your work tools, ventilation for fumes from paints and chemicals and extra light to make those dark corners visible. Consider adding skylights to increase daylight while keeping utility bills down. Add a garage door threshold seal to keep rain, snow, dust and small animals out of your space. If your garage space constantly needs sweeping or drying out, you'll get much less use of it. This simple addition will improve both usability and protection: When water gets under the door, boxes are ruined, tools rust and using power tools is dangerous. The Basics: Organized Work Space If you need all of the space to park vehicles, you'll have to be strategic in designing work and storage areas. Most garages have higher ceilings, so consider going up with your storage. Store bicycles from the ceiling with a lift system. Suitcases, holiday decorations and seasonal clothing stack nicely on a motorized storage platform that easily lifts up out of your way. Tool storage systems, from the basic to the elaborate, can both simplify and expand your tool space. Install cabinets on the walls rather than setting on the floor so that your garage floor is easy to spray out. Transformation: The Man Cave For a total transformation, your garage space needs climate control. If your home's heating and air conditioning system can handle the load, have your contractor extend your vent system into your garage space. If not, consider adding baseboard heat, ceiling fans, and a window or through the wall air-conditioning unit so that your space has year-round accessibility. Break the space up into zones so that you have a storage area, a work area for crafts and repairs, and an entertainment space with an area rug, a couple of recliners or a sofa, and a big screen TV for game night. You can add a small kitchenette or wet bar, and refrigerator for drinks, snacks and ease of cleanup. Remember this … When transforming your garage space into living area, consider the following:
If you make the living space permanent, you'll most likely need a permit. Many municipalities do not allow a complete remodel of garage space into living space.
Turning your garage into a permanent room may reduce resale value. Even though your garage makeover is adding living space, lack of a garage in comparison to nearby homes may make it less desirable. We can help you figure that out, so give us a call before you renovate.
Compliments of Virtual Results