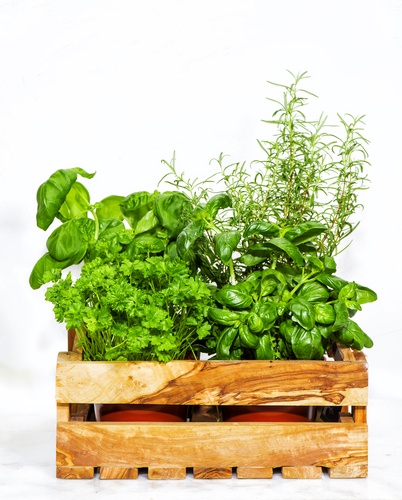 Spring is finally here! There is no better way of getting through the last few grueling weeks of winter than knowing that you'll soon see spring flowers dotting an otherwise grey landscape. But what if you have no time to garden? No worries! There are still plenty of projects you can do to give your garden that spring feeling. Here are a few of our favorites.
Make colorful stepping stones
If you're ready for a little color in the garden, but the daffodils have yet to bloom, add it with some colorful stepping stones. You can easily and quickly make your own with store-bought pavers. It's even a great project to do with kids. Tape out some geometric designs and paint them with weather-resistant paint in a variety of colors. Place them throughout your garden to give it a pop of color and whimsy.
Create a gazing ball
Do you happen to have an old bowling ball gathering dust in the basement or attic? Why not turn it into a gazing ball for your garden? Using adhesive, you can cover it with any number of embellishments, including glass beads, mirrored tiles or even pennies. Place it in a bare patch in the garden to add a colorful focal point.
Invite the birds
Maybe the flowers aren't ready to make their appearances yet, but that doesn't mean the birds aren't. Mother Nature is waking up, and many species of birds are migrating for the spring season. Attract some to your yard by setting out bird feeders. Place them near a window so you can enjoy them throughout the day. Better yet, install a colorful birdhouse or two, and see if any of your feathered friends decide to make it their home.
Clean and tidy
It may not sound exciting, but cleaning and tidying your garden for the upcoming season can put a little "spring" in your step. Clean up any remaining dead leaves and debris from winter. Clear out the garden beds and spread a fresh layer of mulch. Trim back bushes and sweep sidewalks and driveways. When you look outside and see your garden poised and ready for spring, you'll know warm, sunny days are just around the corner.
Visit the garden center
If you use the same flowers and plants in your garden year after year, why not change things up this spring? Go on a scouting adventure to your local garden center. Talk with employees about what plants and flowers will do best in your spring climate. Browse and imagine what your garden could look like with these new additions. Enjoy the time spent amongst all the beautiful plants and flowers, and let your imagination run wild.
Plant a container herb garden
When all else fails, bring the outside in! If you don't have time to invest in a full- blown herb garden, create a smaller version in a container for your kitchen. Choose a brightly colored container and add a variety of herb plants, including rosemary, basil and thyme. Not only will the plants look and smell like spring, they'll add the fresh flavor of the season to your meals.
Compliments of Virtual Results