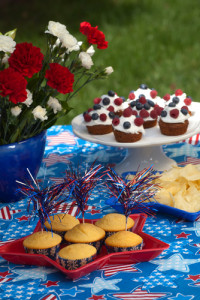 No matter when you close on your new home, there's probably a holiday just around the corner giving you the perfect opportunity to host a party in your new digs. With Independence Day coming up, here are some ideas for celebrating your independence from landlords and rent, while showcasing your new place.
Hang a Flag There's no better way to celebrate the nation's independence than hanging a flag. Take care to follow the correct instructions for displaying the flat. You can find complete instructions for hanging the flag here. If you plan to install a flagpole, contact your neighborhood association or community clerk's office so that you follow any regulations, rules, or ordinances regarding pole location, height, and other considerations.
Combine colored flowers Fill your planters and container gardens with mixtures of red, white, and blue flowers. Create a mixture of blue ageratum or lobelia, white alyssum, petunias or heliotrope and red salvia, geraniums or snapdragons.
Door decorations Create a wreath of miniature flags to grace your entryway. Hang bunting or create a bow of red and white striped or blue-starred fabric and add colorful wooden start, flower picks, or garlands.
Centerpieces Set up picnic or card tables on the patio and cover them with patriotic colors. Make a centerpiece of a small red or white painted bucket filled with blue floral stones and small flags, sparklers (if allowed in your location), and pinwheels.Alternatively, if your party extends into the evening, place lanterns with red, white, and blue candles on each table. You can hang lanterns from planter poles or on chains from trees too. If mosquitos are a problem in your area, use citronella candles in patriotic holders to keep the pests away from your visitors and provide a pleasant scent and candlelight ambience.
Slake your thirst If you're ambitious, create red, white, and blue-layered drinks for the kids and try these patriotic cocktails for your more mature guests. Create frozen treats or sorbet from pureed strawberries, blueberries, or raspberries, or put guests to work churning old-fashioned ice cream.
Stay cool Make sure to provide shade for your guests. If you don't have a covered porch, set up umbrellas or a gazebo, and give everyone a celebratory hand fan to keep cool.For the kids, consider setting up a mister. Children love to play in them and parents don't need to worry about accidental drowning. In addition, a mister can cool the surrounding temperature by several degrees.
Yard games What's a patriotic celebration without a little friendly competition? Yard games such as lawn darts, horseshoes, croquet, corn hole, bocce, and badminton are easy to set up and fun for all ages.
Simplify your menu Sometimes we forget that the cook wants to celebrate too. So simplify your menu to items you can make ahead, serve finger foods, or pre-smoke the ribs and them throw them on the barbecue for a quick reheat just before serving time. Cupcakes in ice cream cones, layered Jell-O, fruit skewers, or individual strawberry-blueberry trifle make dessert time easy.
Set tour schedules Your guests are going to want to see your new home. Remember that you cannot keep an eye on the grill and give a tour at the same time. So, set specific tour times when you can easily leave the yard and inform your guests that you'll happily show them around at those times. Remember to provide towels or doormats if your guests might be wet (from playing games or keeping cool), keep your tour quick, and move everyone back outside when you're ready to move to the other activities.
We can help you get into your new home to celebrate the next big holiday, so give us a call today. Compliments of Virtual Results